BEFORE ARRANGING TO SHIP YOUR CAR TO S.AFRICA ALWAYS TAKE CAREFUL NOTE OF THE S.AFRICAN IMPORT RESTRICTIONS.

SHIPPING YOUR CAR INSIDE A CONTAINER ON A CONTAINER SHIP
The alternative method of shipment is to have your car loaded directly into a shipping container.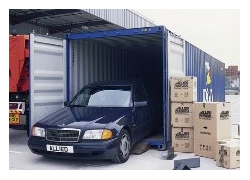 In certain circumstances, where a container is used, personal effects may be carried inside vehicles and you are also permitted to the fill empty spaces inside the container with your personal goods. Please note that container shipping is usually significantly more expensive that Roll on Roll off shipping.
Our directly employed professionals take the greatest of care whilst loading your car at our warehouse. We roll the car into the container via our special dock levellers and then secure your vehicle into the container using special ratchet straps. The wheels are also locked into position using wooden chocks.